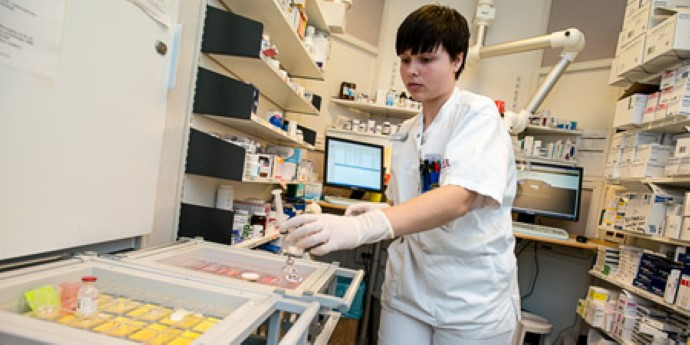 The Department of Hepatology and Gastroenterology is a department of internal medicine with highly specialised functions within hepatology and gastroenterology. The department treats patients from the primary referral area around Aarhus and is a secondary referral centre for patients from the Central Denmark Region, and a tertiary referral centre for patients from the western part of Denmark.
The department is known internationally for its treatment of inflammatory bowel disease with novel biological therapy, of portal hypertension with vascular interventions, of neuroendocrine, and of hepatocellular carcinomas and gastrointestinal motility disorders.
Research
The department has extensive research activities, rooted in the clinical needs of our patients, as expressed in the department values 'Research Based Clinical Work'. The research spans from basic science to clinical epidemiology, over cellular events, patho-physiological mechanistic research and validation of treatments.
The department has broad international clinical and research contacts and collaborations based on the department's reputation for reliable high quality and highly specialised cooperation both concerning patient recruitment, laboratory skills and scientific qualifications. The department conducts in-house translational research of the complete line between molecular mechanisms, cultured cells, animal experiments, and in vivo true time human experiments – from bench to bed, and reverse.
Read more about research here.
Education
Furthermore, the department has extensive pre- and post-graduate education and training obligations, for medical students and junior doctors as well as specialists, and for nurses, social and healthcare assistants and other staff.
Specialised functions
The department is internationally recognised for its front line research in the pathogenesis of hepatic encephalopathy and of the cellular immunogenesis of gut and liver diseases. Furthermore, the department is well known for its publications on the clinical epidemiology of liver and gastrointestinal diseases. The department is recently establishing itself in the research field of neuro-gastroenterology and intestinal failure.

The department takes part in and contributes to numerous international clinical trials. It has widespread scientific partnerships with centres in Australia, Germany, Italy, Spain, UK, USA, and the Scandinavian countries.
Read more about specialised functions here.