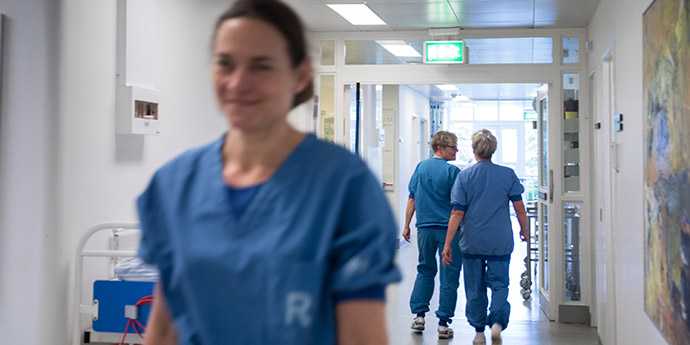 The Department of Oral and Maxillofacial Surgery at Aarhus University Hospital is dedicated to provide patient care at the highest level. Staff is qualified and motivated and new technology whenever this is relevant to improve treatment outcomes.
We strive to obtain a high level of patient satisfaction and our patients repeatedly have scored high in patient satisfaction surveys and feedback on experiences at our department. Likewise, the working conditions of our staff have top priority and efforts are continuously made to ensure optimal conditions for our staff.
All general functions within maxillofacial surgery as well as highly specialised treatments are performed in our department. An Orthodontic Section as well as the Center for Rare Dental Diseases is integrated in the department and we can benefit from a strong collaboration between the dental specialties to perform optimal treatment of complex dental and craniofacial anomalies.
We have a high focus on patient involvement in treatment pathways and all professionals in the department are dedicated to further improve this.
The department has a well established postgraduate education of doctors in maxillofacial surgery and offers internationally recognised courses in different fields of the specialty. Likewise, the department participates in education of nurses, secretaries and other health professionals.
Clinical research and publications cover orthognathic surgery, developing dentofacial anomalies, distraction osteogenesis, juvenile arthritis and other temporomandibular joint pathologies, cleft treatment, clinical pharmacology and dental anomalies in rare dental diseases.
The department has a long tradition in multidisciplinary collaborations with a large number of medical specialties at the hospital including neurosurgery, ENT, plastic surgery, oncology, pathology, and cleft palate.