Functional Body MRI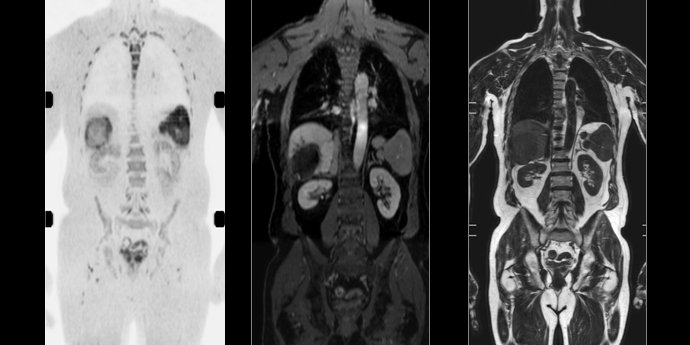 Magnetic resonance imaging (MRI) in oncology is used for monitoring disease during treatment (chemotherapy, radiotherapy, local treatment), for diagnosing recurrence or spread of disease and in the planning of therapy.
The role of MRI in oncology is constantly developing and technical developments now allow us to benefit from the unique soft tissue contrast and functional properties of MRI, also when scanning larger areas of the body which is necessary in a number of oncological diseases? applications.
The main focus of the research is further development and application of the functional imaging technique diffusion weighted imaging (DWI) and the integration of this technique with whole body MRI. Other functional techniques are also used.
DWI may detect and quantify cancer progression during treatment in a short scan time without the use of ionising radiation and contrast agents. However, basic problems concerning its application and quantitative abilities still need to be addressed and results to be? implemented in clinical practise. The research focuses on:
Technical development within quantification of diffusion in the body by applying new ways of obtaining and analysing diffusion data based on multiple b-value acquisition and correction for a number of artifacts both during acquisition and analysis of DWI data.
Comparative studies with other modalities to assess the accuracy of DWI.
Clinical development, application and evaluation of whole-body MRI in oncology. Currently, larger clinical studies focus on detecting relapse and monitoring treatment in breast cancer and testicular cancer.
Application of functional MRI techniques within radiotherapy planned as a part of a joined effort with the Department of Oncology, Aarhus University Hospital and the Danish Center for Particle Therapy, Aarhus University Hospital.
Contacts
Erik Morre Pedersen, MD, PhD, DMSc, Associate Professor, Consultant Radiologist: erikpede@rm.dk
Thomas Winter Buus, MD, PhD student: thomas.winther.buus@auh.rm.dk
Solveig Kärk Abildtrup Larsen, MD, PhD student: solveig.larsen@auh.rm.dk
Kennet Thorup, MSc, PhD student: kennthor@rm.dk
Kim Sivesgaard, MD, PhD: kimsives@rm.dk