Clinical Neuroradiology Research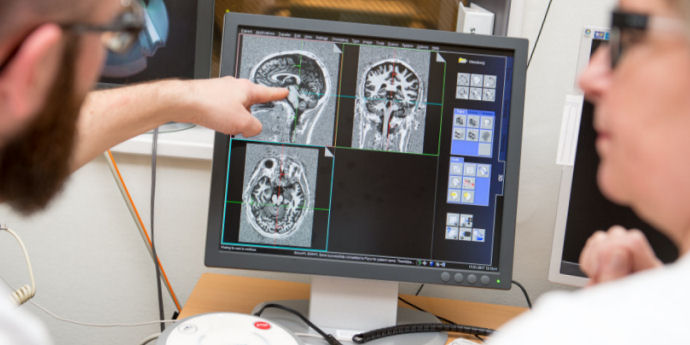 The Section of Neuroradiology works closely with researchers and clinicians from the clinical departments at Aarhus University Hospital and our aim is to improve patient management.
We have a longstanding, fruitful research collaboration with Department of Neurology, especially within acute stroke management. This field has developed rapidly over the past decade, driven partly by innovations within MR-based stroke diagnosis and interventional radiology (thrombectomy) in the context of Aarhus Stroke Center, an inter-departmental collaboration regarding patients with cerebrovascular disease. We also maintain strong collaborations with neurosurgeons, oncologists, and nuclear medicine specialists within advanced methods for non-invasive tumor grading, treatment trials, and presurgical planning for brain surgery and deep brain stimulation.
We collaborate closely with researchers from the Neuroradiology Research Unit and CFIN, both on testing the clinical utility of techniques developed or implemented by their researchers, and on optimization of the quality of our clinical examinations based on their method expertise.
The Neuroradiology Research Committee comprises physicians, physicists and radiographers from the Section of Neuroradiology as well as the Neuroradiology Research Unit and serves as a forum for knowledge exchange and optimization of research methods and protocols during the planning of research projects with our collaborators in clinical practice.
Currently, cerebral small vessel disease (CVD) is a special research focus at the Section of Neuroradiology, sparked by our finding that white matter hyperintensities (WMH) seemingly disrupt critical brain circuitry in patients with risk factors. This work is a collaborative effort with basic researchers at the Neuroradiology Research Unit and clinical researches from Department of Neurology.
References
Schönenberger S, Hendén PL, Simonsen CZ, Uhlmann L, Klose C, Pfaff JAR, Yoo AJ, Sørensen LH, Ringleb PA, Wick W, Kieser M, Möhlenbruch MA, Rasmussen M, Rentzos A, Bösel J. Association of General Anesthesia vs Procedural Sedation With Functional Outcome Among Patients With Acute Ischemic Stroke Undergoing Thrombectomy: A Systematic Review and Meta-analysis. JAMA. 2019;322(13):1283-1293. doi: 10.1001/jama.2019.11455
Campbell BCV et al; HERMES collaborators. Penumbral imaging and functional outcome in patients with anterior circulation ischaemic stroke treated with endovascular thrombectomy versus medical therapy: a meta-analysis of individual patient-level data. Lancet Neurol. 2019;18(1):46-55. doi: 10.1016/S1474-4422(18)30314-4.
Sørensen LH, Speiser L, Karabegovic S, Yoo AJ, Rasmussen M, Sørensen KE, Simonsen CZ. Safety and quality of endovascular therapy under general anesthesia and conscious sedation are comparable: results from the GOLIATH trial. J Neurointerv Surg. 2019;11(11):1070-1072. doi: 10.1136/neurintsurg-2019-014712.
Dalby RB, Eskildsen SF, Videbech PB, Frandsen J, Mouridsen K, Sørensen LH, Jeppesen P, Bek T, Rosenberg R, Østergaard L (2019). Oxygenation differs among white matter hyperintensities, intersected fiber tracts and unaffected white matter. Brain Communications, 1(1). https://doi.org/10.1093/braincomms/fcz033
Tietze A, Choi C, Mickey B, Maher EA, Parm Ulhøi B, Sangill R, Lassen-Ramshad Y, Lukacova S, Østergaard L, von Oettingen G. Noninvasive assessment of isocitrate dehydrogenase mutation status in cerebral gliomas by magnetic resonance spectroscopy in a clinical setting. J Neurosurg. 2018;128(2):391-398. doi: 10.3171/2016.10.JNS161793.
Simonsen CZ, Yoo AJ, Rasmussen M, Sørensen KE, Leslie-Mazwi T, Andersen G, Sørensen LH. Magnetic Resonance Imaging Selection for Endovascular Stroke Therapy: Workflow in the GOLIATH Trial. Stroke. 2018; 49(6):1402-1406. doi: 10.1161/STROKEAHA.118.021038.