Optimal Control MR: Optimized diagnosis and treatment
Our research group uses Optimal Control Theory to optimize the flexibility and quality of MR imaging (MRI) and MR spectroscopy (MRS). With dedicated hardware, our technology also allows us to administer radio frequency (RF) heating to specific tissue regions, e.g. in connection with brain tumors. In the future, we expect this technology to become a valuable supplement to surgery and e.g. MR-guided focused ultrasound surgery (MRgFUS), using the MR system's radio frequency (RF) system for lesion ablation.
Localized MR spectroscopy
Optical control theory is a future framework for conducting MRS within specific tissue regions, which is expected to improve our clinical examinations considerably: The right panel shows the cubic volumes of interest (VOIs) that we currently prescribe? describe? as we use MRS to diagnose mutations in gliomas isocitrate dehydrogenase (IDH) gene, which significantly affects the patient's prognosis (See Clinical Neuroradiology Research: Tietze et al. 2018). While mutation status can be determined from tumor tissue samples, MRS provides the means to non-invasively determine patients' mutation status by detecting elevated 2-hydroxyglutarate (2HG) levels. Panels A-D show placements of regions of interest where 2HG is subsequently measured. The left panel shows how Optimal Control Theory was used to design an advanced RF pulse (insert) for both spatial localization (yellow area) and spectrum read-out (green curve) within a pyruvate-filled container. Thus, only hyperpolarized pyruvate within the letters "dnp" was excited? and measured (Vinding et al. 2013). This approach will allow radiologists to describe?prescribe measurements in the most active tumor regions rather than cubic VOIs.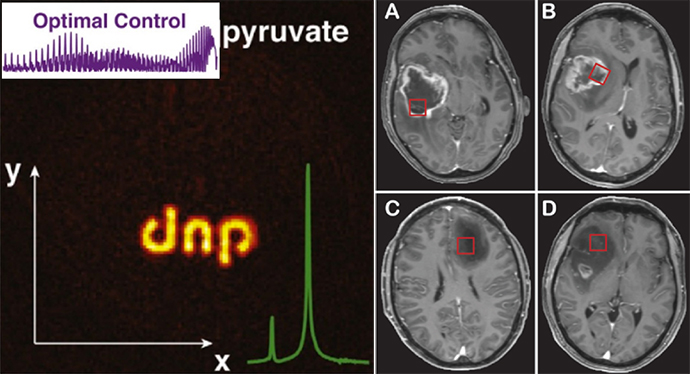 Treating brain lesion tumors by MR
Hyperthermia (HT) adjuvant to chemotherapy and radiotherapy has the potential to increase the outcome of treatment of various cancers, including glioblastoma in the brain. Multichannel RF transmission has been proposed as an alternative to existing HT strategies, which have a number of limitations, including the precision of heat deposition. The figure illustrates this concepts and how we plan to control the local RF specific absorption rate (SAR) hotspots generated by interfering electromagnetic fields from multiple RF coils in such a way that they apply precise amounts of energy to carefully described?prescribed tissue areas for more precise and faster HT therapy.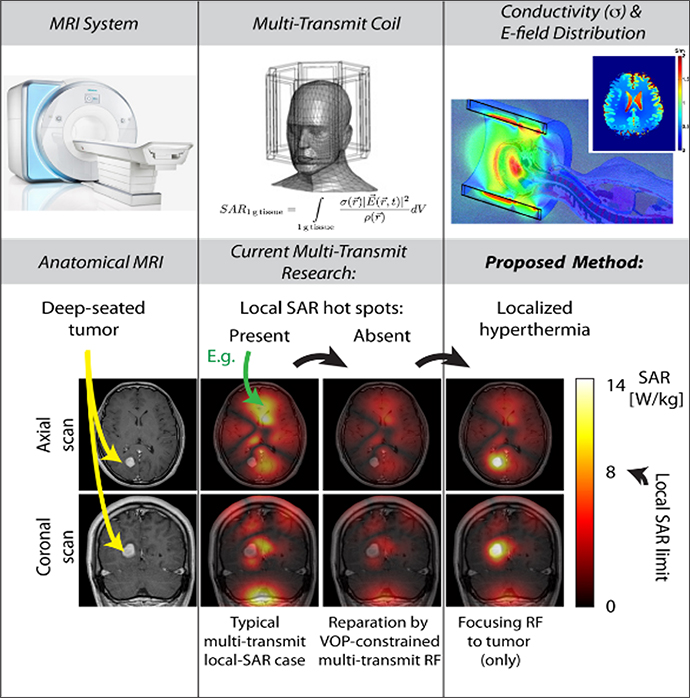 References
Vinding MS, Skyum B, Sangill R, Lund TE. Ultrafast (milliseconds), multidimensional RF pulse design with deep learning. Magn Reson Med. 2019; 82(2):586-599. doi: 10.1002/mrm.27740.
Vinding MS, Brenner D, Tse DHY, Vellmer S, Suter D, StöckerT, Maximov I. Brain stem zoomed echo planar imaging with optimal control parallel transmit at 7T. EUROMAR 2016.
Vinding MS, Brenner D, Tse DHY, Vellmer S, Vosegaard T, Suter D, Stöcker T, Maximov I. Application of the limited-memory quasi-Newton algorithm for multi-dimensional, large flip-angle RF pulses at 7T. Magn Reson Mat Phys Biol M 2017; 30(1) 29-39.
Vinding MS, Guérin B, Vosegaard T, Nielsen NC. Local SAR, global SAR, and power-constrained large-flip-angle pulses with optimal control and virtual observation points. Magn Reson Med. 2017; 77:374-384. doi: 10.1002/mrm.26086.
Vinding MS, Laustsen C, Maximov II, Søgaard LV, Ardenkjaer-Larsen JH, Nielsen NC. Dynamic nuclear polarization and optimal control spatial-selective 13C MRI and MRS. J Magn Reson. 2013; 227:57-61. doi: 10.1016/j.jmr.2012.12.002.