22.02.22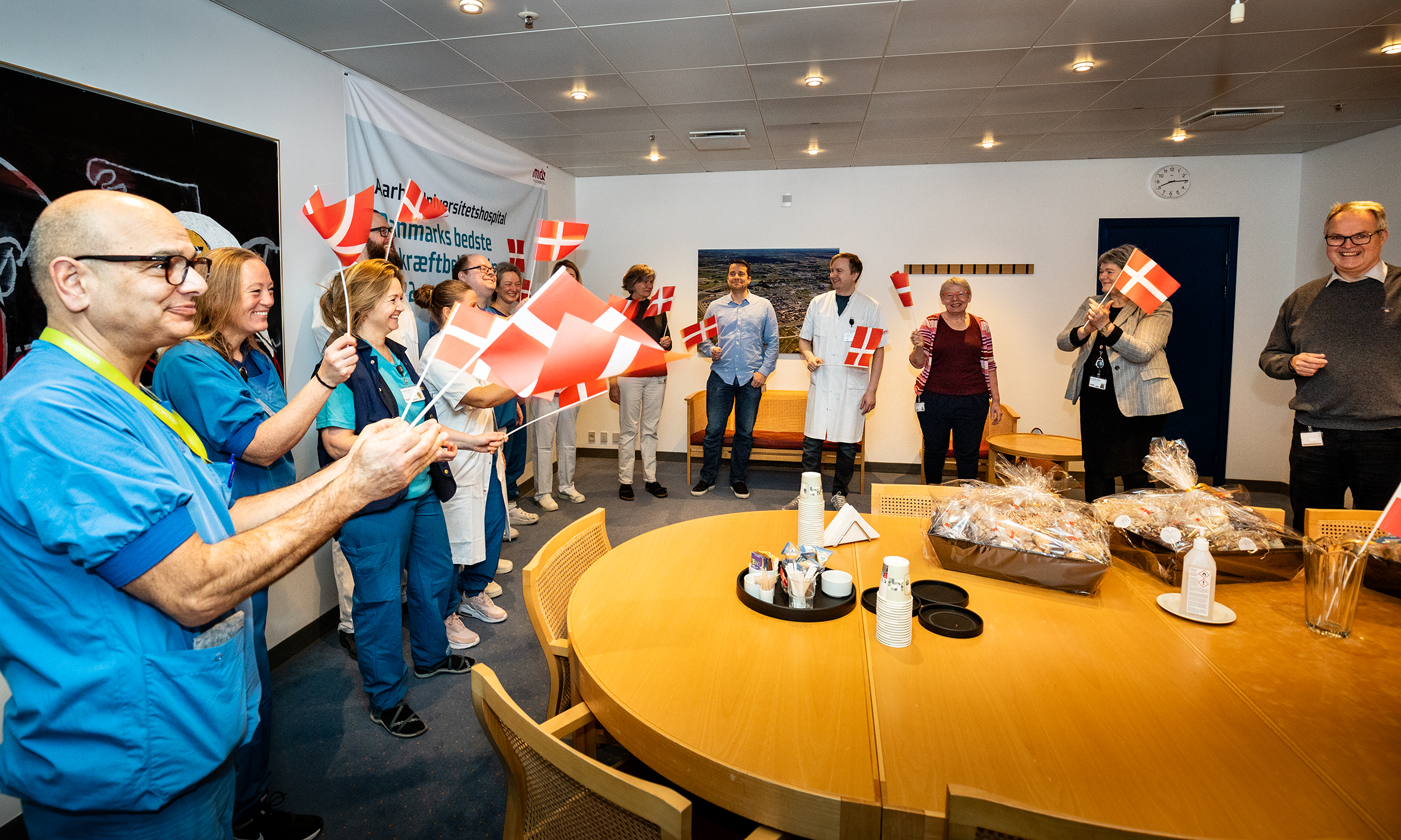 Numerous departments at Aarhus University Hospital are involved in the treatment of cancer patients. The board of directors at the hospital celebrated with the departments shortly after Aarhus University Hospital had been voted best at treating cancer in Denmark (photo: Tonny Foghmar).
Aarhus University Hospital is voted the second best university hospital in Denmark and the best at treating cancer.
The independent specialist newspaper of healthcare sector news "Dagens Medicin" has appointed Aarhus University Hospital Denmark's best hospital in 2022 to treat cancer.
Aarhus University Hospital (AUH) wins in five cancer areas: Lung cancer, prostate cancer, brain cancer, bone sarcomas as well as cancer in the liver and biliary system.
- Huge congratulations to all staff at AUH. This appointment is a giant pat on the back and a huge recognition of the many departments and employees who every day makes an important difference to our patients with cancer. We win because of our extremely high professionalism and our unique ability to create results through collaboration, says Claus Thomsen, Chief Medical Officer at AUH.
Second best university hospital
After having been appointed the best large hospital in Denmark for the last 14 years, AUH is number two in this year's competition by "Dagens Medicin". Rigshospitalet in Copenhagen is appointed the best large hospital in 2022.
- We would like to congratulate Rigshospitalet with the appointment this year. It is the first time AUH is not appointed number one in all the years the competition has been held by "Dagens Medicin". The assessments made by "Dagens Medicin" of AUH and the other three large hospitals in Denmark reflect the high quality of the Danish healthcare system. That calls for celebration, says Claus Thomsen, Chief Medical Officer at AUH.
Number one in eight treatment areas
This year, 51 treatment areas have been assessed at AUH and the hospital is number one in eight of these.
Isolated bypass
Lung cancer
Prostate cancer
Brain cancer
Shoulder arthroplasty
Bone sarcomas
Liver and biliary cancer
Kidney transplantation