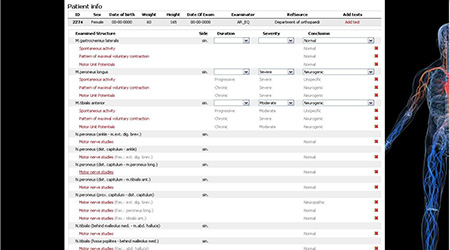 The department of Clinical Neurophysiology is heading the neurophysiological multicentre collaboration ESTEEM (European Standardised Tool to Evaluate Electrodiagnostic Methods) concerning research and quality development in clinical neurophysiology (Vingtoft et al. 1994). The project was established in 1992 under the EU Advanced Informatics in Medicine (AIM) programme and currently consists of experienced neurophysiologists as well as associated research members from six European countries.

The members of ESTEEM conduct a regular medical audit of their examinations, partly via the internet and partly via workshop meetings twice a year. The project's web database now contains more than 1100 electrodiagnostic examinations with expert consensus on the diagnosis.

The ESTEEM project is increasingly focusing on prospective studies of electrodiagnostics and pathophysiology. The multicentre design enables efficient research in both rare neuromuscular disorders where sufficient data can be collected within a reasonable amount of time and in common neurological problems where a great amount of data can be generated in a short time. Current focus areas are amyotrophic lateral sclerosis (ALS) (Pugdahl et al. 2007, Pugdahl et al. 2008), chronic inflammatory demyelinating polyneuropathy (CIDP) and myopathy.
Guidelines and quality development
Quality improvement to optimise the diagnosis and treatment of patients with neuromuscular disorders is another key issue in ESTEEM. Studies on the ESTEEM database have revealed great variation in the electrodiagnostic practice in Europe and indicated the need for standardisation and development of evidence-based guidelines for examination and diagnosis of neuromuscular disorders (Johnsen et al. 1994, Johnsen et al. 1995, Fuglsang-Frederiksen et al. 1995, Fuglsang-Frederiksen et al. 1999, Tankisi et al. 2003, Pugdahl et al. 2010). Although this is an area of increasing interest, existing guidelines in the field of clinical neurophysiology are still sparse and the current practice is largely based on tradition and personal experience.

The ESTEEM project has several advantages in developing guidelines accepted by the international neurophysiological community. These include data mining of the large multicentre database with peer reviewed examinations with expert consensus diagnosis, results from variation studies considering the use of different examination techniques in different labs , and experts' personal experience. Diagnostic criteria for polyneuropathy have been published (Tankisi et al. 2005), while development of guidelines is in progress for the electrodiagnosis of ALS, neuromuscular transmission disorders (e.g. myasthenia gravis) and myopathies (e.g. muscular dystrophy).
Contacts
Anders Fuglsang-Frederiksen, Professor, MD, DMSc andefugl@rm.dk
Birger Johnsen, MD, PhD, Associate Professor, birgjohn@rm.dk
Hatice Tankisi, Associate Professor, MD, PhD hatitank@rm.dk
Kirsten Pugdahl, MSc, PhD kirspugd@rm.dk