Department of Orthopaedic Surgery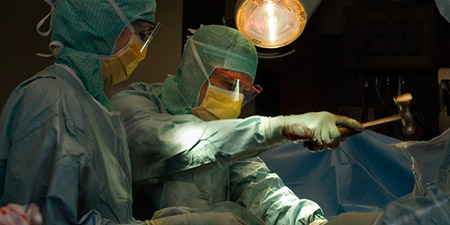 The Department of Orthopaedic Surgery is internationally recognised as a highly specialised department offering full scale and updated medical care, research and education in the following sub-specialties: Traumatology and Infection, Foot and Ankle, Knee and Hip, Spine, Shoulder and Elbow, Hand, Tumour and Children's Orthopaedics.
Excellent clinical care is our goal. We are ranked as the best orthopaedic department in the country by the medical news magazine Dagens Medicin.
Our sub-specialties work as an integrated service organised within the Acute Centre at Aarhus University Hospital and we collaborate with other disciplines such as radiology, physical medicine and rehabilitation. We care for more than 58,700 patients in our out-patient clinics and perform more than 11,100 operations annually.
The Aarhus Orthopaedic Centre is part of the Department of Clinical Medicine, Aarhus University and is internationally recognised as a leader in research and education. Our experimental unit carries out research into innovative treatment methods. Primary research areas are: surgical methods, implant surfaces, wear debris, growth factors, stem cells, gene therapy methodology, growth disorders, artificial bone, anabolic effect of Zn, neuromuscular disorders, pain assessment in children, non-invasive diagnostic techniques and health economics.
For more information:
www.orthoresearch.dk
www.orf-aarhus.dk
www.dpor.dk