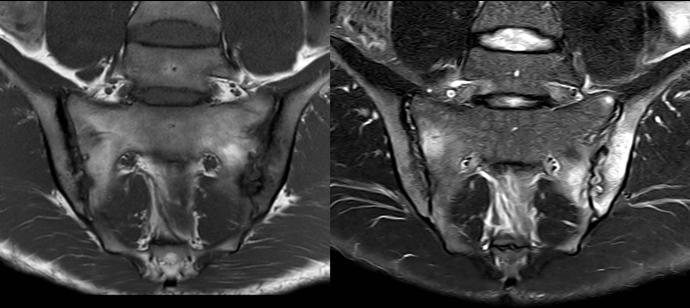 Manifest rheumatic sacroiliitis
Imaging of spondyloarthritides (SpA) has been a research area in the department since 1990. Initially, it was focused on the anterior chest wall and later on the sacroiliac joints and the spine. The research has been unfolded in four PhD theses and international publications.
The current local research at AUH is concentrated on two main diagnostic problems: the differentiation of normal variants at the sacroiliac joints from disease changes and differentiation of load-related MR changes from SpA changes, especially related to pregnancy MR changes. These differentials are very important as they can simulate SpA changes. Detection of differentials will therefore improve the diagnostic accuracy of MRI in the diagnosis and follow-up of SpA, potentially saving expensive biological therapy. A current PhD study by Rosa Marie Østergaard Kiil is focused on load-related changes.
The location of load-related sacroiliac joints changes in healthy individuals has been studied in a collaboration with the Department of Rheumatology and Sports Medicine, North Denmark Regional Hospital, Hjørring and King Christian 10th Hospital for Rheumatic Diseases, Gråsten, now Danish Hospital for Rheumatic Diseases, Sønderborg Hospital. The results of this collaboration are used as a background for current research.
The department has developed a new technique for transarticular CT-guided biopsy of the sacroiliac joint, which makes it possible to analyse the histopathology, including immunohistological changes, in areas of inflammation, which may reveal important pathogenetic information.
Nationally, the department has for the last 11 years been engaged in two Danish multicenter studies of SpA (BioSpA and DANISH) concerning the effect of biological treatment using MR findings as a biomarker.
Since 2011, there has been a close collaboration with the Spine Center of Southern Denmark. The collaboration started with an epidemiological study including 1,037 young (18-40 years) patients presenting with low back pain. Initially, MRI of the whole spine and the sacroiliac joints was performed in addition to clinical examination, questionnaires and biochemical tests. All participants were offered a similar MR follow-up examination after three to four years. A total of 604 patients have completed this set up, which constitutes a valuable follow-up material with regard to prognostic MR features. All MR examinations have been evaluated in our department whereas patient examinations have been performed at the Spine Center and the Departments of Rheumatology in Vejle and Gråsten, respectively. This unique material has been used in three PhD theses at University of Southern Denmark and there is currently a PostDoc and two PhD students (one at Aarhus University) working with data from this cohort. MRI findings are important outcome measures in these projects, and are also used for analyses of the occurrence of SpA-like changes in patients with non-specific low back pain. As part of this, consultant Anna Zejden in our department performs analyses of MRI changes at the sacroiliac joints simulating SpA, including false positive MRI findings. These findings may be due to normal variants and the study is therefore supplemented by an analyses of normal sacroiliac joints based on CT of trauma patients.
The department has participated in international SpA studies, including the value of whole body MRI and harmonisation of MR sequences in the diagnosis of sacroiliitis and spinal involvement in SpA. Currently, the international focus of the department is on improving the diagnostic accuracy of MRI by participating in a major international study (CLASSIC).


Load-related changes after pregnancy
References
Weber U, Jurik AG, Zejden A, Larsen E, Jørgensen SH, Rufibach K, Schioldan C, Schmidt-Olsen S. MRI of the sacroiliac joints in athletes: recognition of non-specific bone marrow oedema by semi-axial added to standard semi-coronal scans. Rheumatology (Oxford). 2019 Oct 10:kez458. doi: 10.1093/rheumatology/kez458. Epub ahead of print. PMID: 31600395.
Egund N, Sørensen FB, Østgård R, Loft AG, Boel LWT, Jurik AG. CT-guided transarticular biopsy of the sacroiliac joint: Technique and histomorphological results. A preliminary study. Skeletal Radiol. 2020 Mar;49(3):453-460. doi: 10.1007/s00256-019-03305-x. Epub 2019 Sep 4. PMID: 31485679.
Maksymowych WP, Lambert RG, Østergaard M, Pedersen SJ, Machado PM, Weber U, Bennett AN, Braun J, Burgos-Vargas R, de Hooge M, Deodhar AA, Eshed I, Jurik AG, Hermann KA, Landewé RB, Marzo-Ortega H, Navarro-Compán V, Poddubnyy D, Reijnierse M, Rudwaleit M, Sieper J, Van den Bosch FE, van der Heijde D, van der Horst-Bruinsma IE, Wichuk S, Baraliakos X. MRI lesions in the sacroiliac joints of patients with spondyloarthritis: an update of definitions and validation by the ASAS MRI working group. Ann Rheum Dis. 2019 Nov;78(11):1550-1558. doi: 10.1136/annrheumdis-2019-215589. Epub 2019 Aug 17. PMID: 31422357.
Arnbak B, Jensen TS, Schiøttz-Christensen B, Pedersen SJ, Østergaard M, Weber U, Hendricks O, Zejden A, Manniche C, Jurik AG. What Level of Inflammation Leads to Structural Damage in the Sacroiliac Joints? A Four-Year Magnetic Resonance Imaging Follow-Up Study of Low Back Pain Patients. Arthritis Rheumatol. 2019 Dec;71(12):2027-2033. doi: 10.1002/art.41040. Epub 2019 Nov 9. PMID: 31309715.
Pedersen SJ, Weber U, Said-Nahal R, Sørensen IJ, Loft AG, Kollerup G, Juul L, Frandsen PB, Thamsborg G, Madsen OR, Møller J, Balding L, Jurik AG, Østergaard M. Structural progression rate decreases over time on serial radiography and magnetic resonance imaging of sacroiliac joints and spine in a five-year follow-up study of patients with ankylosing spondylitis treated with tumour necrosis factor inhibitor. Scand J Rheumatol. 2019 May;48(3):185-197. doi: 10.1080/03009742.2018.1506822. Epub 2018 Nov 13. PMID: 30422733.
Weber U, Jurik AG, Zejden A, Larsen E, Jørgensen SH, Rufibach K, Schioldan C, Schmidt-Olsen S. Frequency and Anatomic Distribution of Magnetic Resonance Imaging Features in the Sacroiliac Joints of Young Athletes: Exploring "Background Noise" Toward a Data-Driven Definition of Sacroiliitis in Early Spondyloarthritis. Arthritis Rheumatol. 2018 May;70(5):736-745. doi: 10.1002/art.40429. Epub 2018 Mar 23. PMID: 29430880.
Arnbak B, Jurik AG, Jensen TS, Manniche C. Association Between Inflammatory Back Pain Characteristics and Magnetic Resonance Imaging Findings in the Spine and Sacroiliac Joints. Arthritis Care Res (Hoboken). 2018 Feb;70(2):244-251. doi: 10.1002/acr.23259. Epub 2018 Jan 22. PMID: 28426912.
Østgård RD, Deleuran BW, Dam MY, Hansen IT, Jurik AG, Glerup H. Faecal calprotectin detects subclinical bowel inflammation and may predict treatment response in spondyloarthritis. Scand J Rheumatol 2018 Jan;47(1):48-55. doi: 10.1080/03009742.2017.1299216. Epub 2017 Jun 26.PMID: 28649913.
Hededal P, Østergaard M, Sørensen IJ, Loft AG, Hindrup JS, Thamsborg G, Asmussen K, Hendricks O, Nørregaard J, Møller JM, Jurik AG, Morsel L, Balding L, Pedersen SJ. Development and validation of MRI sacroiliac joint scoring methods for the semiaxial scan plane corresponding to the Berlin and SPARCC MRI scoring methods, and of a new global MRI sacroiliac joint method. J Rheumatol 2018 Jan;45(1):70-77. doi: 10.3899/jrheum.161583. Epub 2017 Oct 1.PMID: 28966208.
Zejden A, Jurik AG. Anatomy of the sacroiliac joints in children and adolescents by computed tomography. Pediatric Rheumatol 2017 Nov 25;15(1):82, doi: 10.1186/s12969-017-0210-0.PMID: 29178931.
Heftdal LD, Loft AG, Hendricks O, ChristiansenAA, Schiøttz-Christensen B, Arnbak B, Jurik AG, Østgård R, Deleuran BW, Møller HJ, Greisen SR.. Divergent effects on macrophage biomarkers soluble CD163 and CD206 in axial spondyloarthritis. Scand J Clin Lab Invest 2018 Oct;78(6):483-89. doi: 10.1080/00365513.2018.1500704. Epub 2018 Sep 4.PMID: 30176763
Contacts
Anne Grethe Jurik, MD, DMSc, Professor, Consultant Radiologist, Department of Radiology, AUH: annejuri@rm.dk
Anna Zejden MD, Consultant Radiologist, Department of Radiology, AUH: annazejd@rm.dk
Niels Egund, DMSc, Professor Emeritus, Department of Radiology, AUH: nielegun@rm.dk
Flemming Brandt Sørensen, MD, DMSc, Professor, Department of Pathology: FLSOER@rm.dk
Bodil Arnbak, MSc, PhD, PostDoc, Department of Sports Science and Clinical Biomechanics, University of Southern Denmark, Odense: Bodil.Arnbak@rsyd.dk
René Østgård, MD, PhD, Department of Rheumatology, Silkeborg Regional Hospital: reneoest@rm.dk
Ulrich Weber, MD, Danish Hospital for Rheumatic Diseases, Sønderborg Hospital: ulrich.weber02@bluewin.ch
Søren Schmidt-Olsen MD, Department of Rheumatology and Sports Medicine, North Denmark Regional Hospital, Hjørring: sso@rn.dk