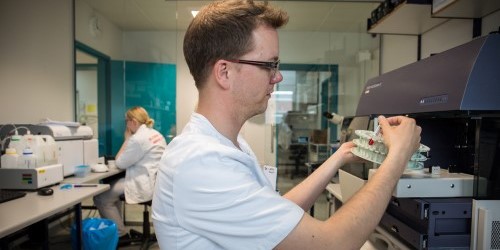 Research at the Department of Clinical Immunology focus on blood donation, blood transfusion, organ and stem cell transplantation as well as research in primary immunodeficiencies and autoimmune diseases.

The Danish Blood Donor Study (DBDS) is a large national population study of more than 110,000 healthy donors. An important aim is to identify biomarkers in healthy donors that allow prediction of future diseases.

Another focus is cellular therapy with stromal stem cells (MSCs). The objective is combining ex vivo perfusion of transplants with delivery of MSCs to facilitate homing of these immunosuppressive cells to the transplanted organ.

A third focus is risk stratification of organ transplant recipients. Novel techniques have recently appeared that allow us to specify the alloimmunisation profile of organ transplant candidates. Monitoring after transplantation in the attempt to reveal immunological complications at an early stage is given high priority.
In collaboration with the Department of Infectious Diseases we perform research in HIV and hepatitis in the West African country Guinea Bissau. the country holds the world's highest prevalance of HIV-2, which is a less virulent form of HIV.
Contact
Christian Erikstrup, MD, PhD
E-mail: cherik@rm.dk
Phone: +45 7845 5005