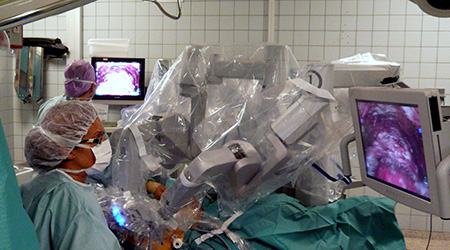 The Department of Urology has a long and proud tradition for embracing advances in science, implementation of cutting edge technology and state of the art treatment modalities. This is most evident in the pioneering of robotic urology especially in paediatric patients. The department is the centre of Scandinavian postgraduate specialty training in laparoscopic and robotic urology with several annual courses and training workshops held at the adjacent facilities of the Department of Clinical Medicine, Aarhus University.

The department is strongly involved in the development and refinement of cryoablation therapy for urological cancers in close cooperation with other European and transatlantic partners and has become hostof an extensive panEuropean database on results and outcomes of this novel treatment.
The Department of Urology is highly experienced in the field of minimally invasive laparoscopic and robot-assisted surgery with special focus on the management of renal and prostatic cancer as well as benign diseases of the upper urinary tract.

The Department of Urology has an extensive research publication encompassing both paediatric and adult urology.
The department cooperates with leading international institutes such as Great Ormond Street Hospital for Sick Children in London, UK, the Karolinska Institute in Stockholm, Sweden and the Princess Margaret Hospital in Perth, Australia.