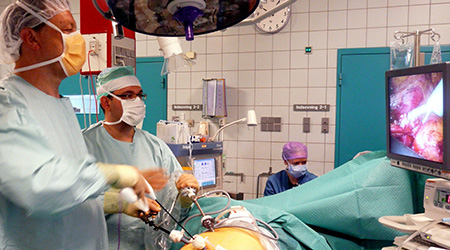 The Department of Urology is specializzed in treating patients with urinary tract and male genital disorders. Subspecialties include paediatric urology, renal stone disease, benign upper and lower urinary tract disorders, urodynamics, renal transplantation, andrology and uro-oncology:bladder, penile, renal, testicular and prostatic cancers.

Currently, the minimally invasive surgical approach constitutes the mainstay of surgical management for prostate, renal and bladder cancer as well as for benign diseases in the upper urinary tract.
We have also adopted laparoscopic as well as CT/ultrasound-guided percutaneous cryotherapy for renal tumours. This novel minimally invasive organ-preserving approach is used to treat small peripheral tumours, bilateral disease or patients with compromised renal function.
Patients with kidney and ureteral stones undergotransurethral lithotripsy in our outpatient clinic (day surgery).

Paediatic section
The section for paediatric urology has since 2008 been certified by The Joint Committee of Paediatric Urology and the European Academy of Paediatric Urology as a European training centre for fellowships in this field.
The section for paediatric urology has a catchment area of approximately 3.8 million inhabitants, and provides highly specialised treatment of children with urological congenital and acquired anomalies such as hypospadias, hydronephrosis, testicular maldescent, neurogenic bladder dysfunction and disorders of sexual differentiation. Additionally, children with functional disorders such as urinary/faecal incontinence and dysfunctional voiding are treated in close collaboration with the Department of Paediatrics.

Other rarer paediatric conditions such as epispadias, bladder exstrophy, and cloacal anomalies are also treated in accordance with the highest international standards in close and formal collaboration with Great Ormond Street Hospital for Children, London, UK. Transitional /adolescent urology is also provided as a vital link for patients transitioning into adulthood to ensure continuity of care for both adolescents and their parents.