Clinical trials
DCPT has an extensive clinical research programme centred around gathering evidence to develop treatment outcome and improve patient experience.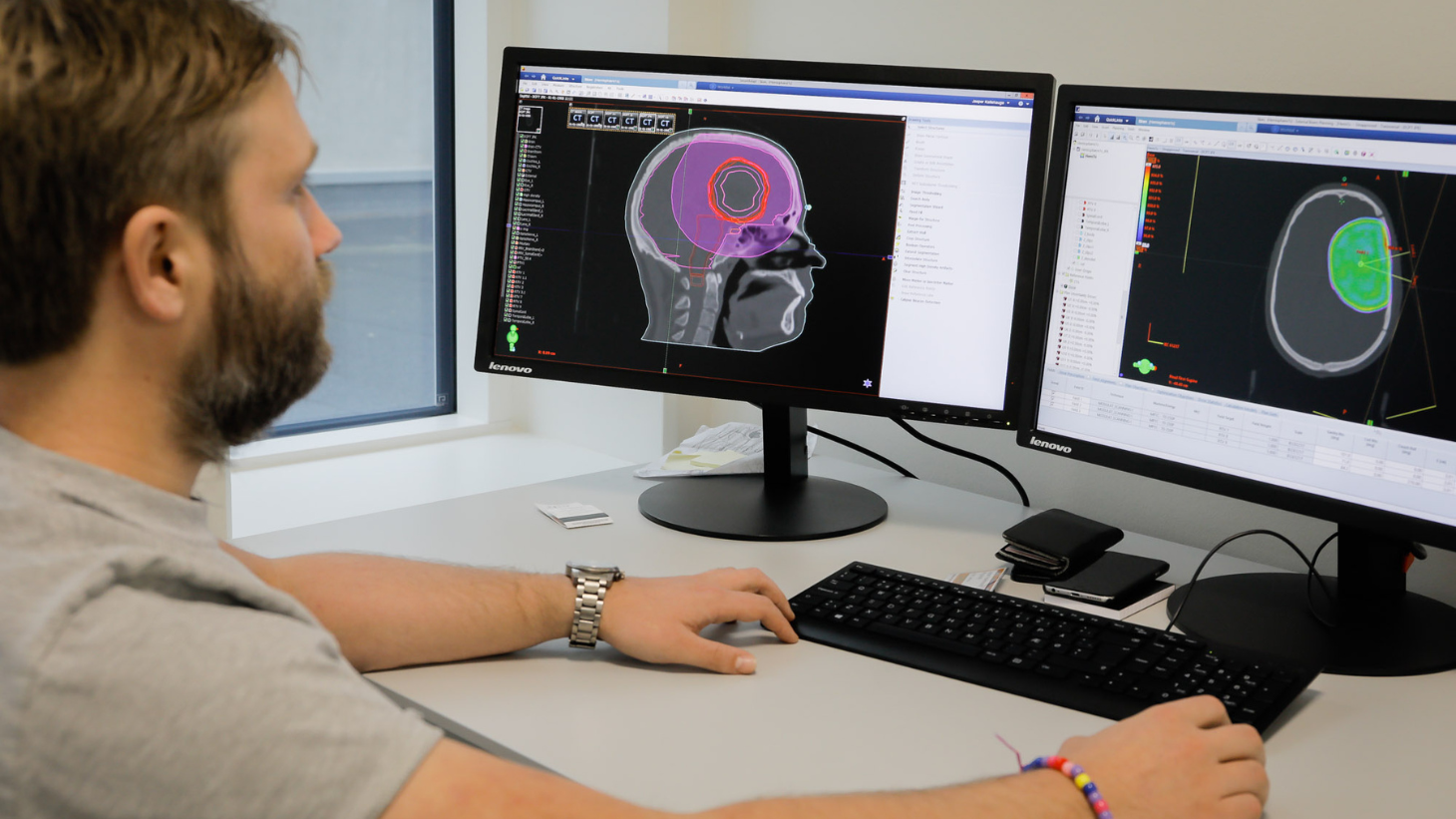 Clinical research is a substantial part of the research activities at the Danish Centre for Particle Therapy. The clinical trials at DCPT involve data collection on treatment response and dose response analyses as well as comparative dose planning studies. The results are implemented in clinical practice to improve treatment protocols and optimise selection of patients who can benefit from proton therapy.

All initiated clinical trials at DCPT are reviewed by a multidisciplinary Clinical Research Committee. The purpose of the committee is to ensure a multidisciplinary pre-evaluation to further qualify research projects by reviewing protocol endpoints and feasibility, study design, ethics and patient safety, data management and methods. Find more information on current clinical trial protocols below.
ReRad III (DACG 5): Pencil beam proton therapy for recurrences in anal cancer patients previously treated with radiotherapy
This prospective, non-randomized study aims to determine toxicity and efficacy of re-irradiation for patients with recurrences with dose-escalated pencil beam proton therapy.
National investigator: Camilla Kronborg
DCPT investigator: Camilla Kronborg
DNOG2: Cognitive Function After Radiation Therapy for Primary Brain Tumours
The study is a prospective nationwide study including approximately 300 brain tumour patients from the Danish Centre for Particle Therapy and the four Neuro Oncology centres in Denmark.

National investigator: Lene Haldbo-Classen
DCPT investigator: Morten Høyer
The DBCG Proton Trial (Skagen 2)
Adjuvant breast proton radiation therapy for early breast cancer patients: The Skagen Trial 2, a clinically controlled randomised phase III trial
This trial tests standard photon radiotherapy versus experimental proton radiotherapy for selected early breast cancer patients. The primary endpoint is 10 year risk of heart disease.

National investigator: Birgitte Vrou Offersen
DCPT investigator: Birgitte Vrou Offersen
PROTECT: PROton versus photon Therapy for Esophageal Cancer - a Trimodality stretegy
A multicenter international randomized phase III study of neoadjuvant proton versus photon chemoradiotherapy in locally advanced esophageal cancer. The study hypothesis is that radiation dose reductions to critical OARs in the thorax, such as heart and particularly the lungs, using trimodality nCPT compared to nCXT, will result in lower rates of treatment related complications.
National investigator: Marianne Norsmark
DCPT investigator: Hanna Mortensen
DAHANCA35: A national randomised trial of proton versus photon radiotherapy for the treatment of head-neck cancer
This study evaluates the anticipated benefit of proton radiotherapy in reducing the risk of late dysphagia or xerostomia.

National investigator: Jeppe Friborg
DCPT investigator: Kenneth Jensen
DAHANCA37: Re-irradiation with Proton Radiotherapy
A Phase II study of Intensity Modulated Proton Therapy (IMPT) for re-irradiation with curative intent for recurrent or new primary head and neck cancer.

National investigator: Kenneth Jensen
DCPT investigator: Kenneth Jensen
DAHANCA30: A Randomised Non-inferiority Trial of Hypoxia-profile Guided Hypoxic Modification of Radiotherapy of HNSCC
In DAHANCA30, expected hypoxia profile guided non-responders are randomized to +/- nimorazole during radiotherapy. This in order to verify clinical use of the gene profile in selecting the relevant patients for hypoxic modification of radiotherapy with nimorazole.

National investigator: Jens Overgaard/Kasper Toustrup
DCPT investigator: Kenneth Jensen
HERAN2: Heterogeneously Hypofractionated Radiotherapy for Locally Advanced NSCLC

Aim: To test if proton therapy can improve survival compared to photon therapy in patients with locally advanced NSCLC who are not candidates for standard definitive chemo-radiotherapy.

National investigator: Tine Schytte

DCPT investigator: Ditte S. Møller, Hanna Rahbek Mortensen
Medulloblastoma
HR-MB. SIOP High-Risk Medulloblastoma: An international prospective trial on high-risk Medulloblastoma in patients older than 3 years
An international study comparing a number of treatment options for patients older than three years with medulloblastoma and clinical or biological features that make these patients more difficult to treat (high-risk disease).
Ependymoma

SIOP EP II: An international clinical program for the diagnosis and treatment of children, adolescents and young adults with ependymoma
The overall aim of this project is to improve the outcome of patients diagnosed with ependymoma by improving and harmonising the staging and the standard of care of this patient population and to improve the investigators understanding of the underlying biology thereby informing future treatment. The programme will evaluate new strategies for diagnosis (centralized reviews of pathology and imaging) and new therapeutic strategies in order to develop treatment recommendations.

National investigator: Ines Kristensen
DCPT investigator: Yasmin Lassen
Wilms tumor
UMBRELLA (UMBRELLA PROTOCOL SIOP-RTSG 2016): Integrated research and guidelines for standardized diagnostics and therapy
Rhabdomyosarcoma (RMS)

FaR-RMS. An overarching study for children and adults with Frontline and Relapsed RhabdoMyoSarcoma
The trial is trying to answer a number of questions about the treatment of RMS. These include looking at:
new combinations of chemotherapy as initial treatment (induction)
the timing, dose and extent of radiotherapy
chemotherapy to keep the cancer under control after initial chemotherapy.
The main aims of the trial are to improve treatment outcomes and quality of life.

National investigator: Lisa Hjalgrim
DCPT investigator: Akmal Safwat
Neuroblastoma HR-NLB
Randomized, international and multicentric phase 3 study that
evaluates and compares 2 treatment strategies in 3 therapeutic
phases (induction, high-dose chemotherapy and radiotherapy) for
patients with high-risk neuroblastoma.
R-I:
Comparison of the EFS rate of 2 induction regimens, GPOH and
RAPID COJEC, in patients with high-risk neuroblastoma.
R-HDC:
Comparison of the EFS rate of single HDC with busulphan and
melphalan (Bu-Mel) versus tandem HDC with Thiotepa followed by
Bu-Mel in patients with high-risk neuroblastoma.
R-RTx:
Comparison of the EFS rate of 21.6 Gy radiotherapy to the preoperative tumor bed versus 21.6 Gy radiotherapy and a sequential
boost up to 36 Gy to the residual tumor in patients with macroscopic
residual disease after HDC and surgery.
National investigator: Jesper Sune Brok
DCPT investigator: Britta Weber
Atypical teratoid/rhabdoid tumours: AT-RT-01
Prospective, open label, multicentre, international umbrella trial including a randomized phase III study evaluating the non-inferiority of 3 courses of high-dose chemotherapy compared to focal radiotherapy plus standard chemotherapy as a consolidation measure following conventional chemotherapy in children with ATRT ranging from 12 – 35 months at the time of consolidation (RT vs. HDCT).
National investigator: Karsten Nysom
DCPT investigator: Yasmin Lassen
All paediatric cancers

HARMONIC: Health Effects of CArdiac FluoRoscopy and MOderN RadIotherapy in PediatriCs
The goal of the HARMONIC-RT study is to evaluate late health and social outcomes of modern external beam radiotherapy techniques in paediatric patients, based on the setting-up of a European, long-term registry complemented by a biobank.
National investigator: Yasmin Lassen
DCPT investigator: Yasmin Lassen
TEDDI:
TEDDI is investigation a feasible and reproducible strategy to reduce the mean radiation dose to the heart in pediatric patients referred for radiotherapy to tumors in the thorax or abdomen.
National investigator: Daniella E. Østergaard
DCPT investigator: Akmal Safwat
PRO-PROTON 1: Lymph node radiation therapy with integrated boost to prostate for high-risk prostate cancer
A randomized phase 3 trial comparing photons vs. protons
National investigator: Lise Bentzen
DCPT investigator: Stine Elleberg Petersen, Ludvig Muren
ReRad II: Pencil Beam Proton Therapy for Pelvic Recurrences in Rectal Cancer Patients Previously Treated With Radiotherapy
A prospective phase II, non-randomized observational study of dose-escalated pencil beam proton therapy re-irradiation for pelvic recurrences from rectal cancer.
National investigator: Camilla Kronborg
DCPT investigator: Camilla Kronborg
Brain tumours: DNOG3

Brain tumours: Glioblastoma Escalated Dose

Cervix cancer
Teratoid/rhabdoid: AT-RT-01
Leptomeningeal metastasis: CSI ProLong
Medulloblastoma: EORTC PersoMed-I