Cervix cancer radiotherapy: Treatment and outcome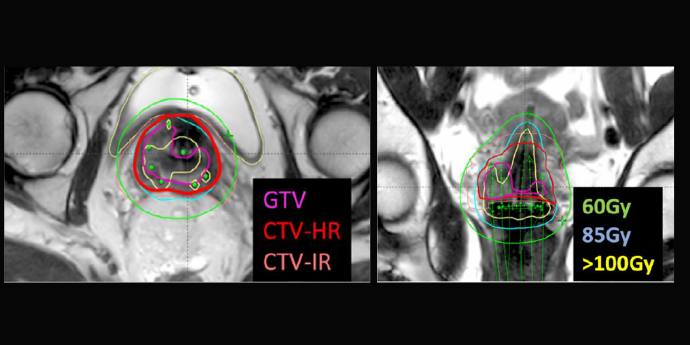 MRI guided brachytherapy in locally advanced cervix cancer. The brachytherapy boost is individually tailored according to the response of the tumour to external beam radiotherapy.


Cervix cancer is among the most frequent and deadly cancers among women worldwide. An efficient screening programme has significantly decreased the incidence in high income countries, but in low and middle income countries the incidence is predicted to rise or remain stable over the next 50 years even under the effect of HPV vaccination.

The cervix cancer radiotherapy research group at Aarhus University Hospital/the Danish Centre for Particle Therapy focus on the entire process of radiotherapy including imaging, treatment planning, treatment delivery as well as patient outcome after radiotherapy. The research group is actively involved in coordination of large international clinical studies (the EMBRACE studies) with the aim of continuously setting new international standards for radiotherapy in cervix cancer.

The research group has a large international network with other universities and collaborate with students and colleagues worldwide. Furthermore, the group has significant interest in dissemination, and has coordinated an accreditation program for the EMBRACE studies, participates in international guideline groups, and engages in international teaching courses. These activities secure the dissemination of results from the research group and have contributed to the international change of practice in cervix cancer radiotherapy happening over the last decade.
People
Development of the EMBRACE III studies, Kari Tanderup, Aarhus University Hospital, Remi Nout Erasmus MC University Medical Center, Netherlands, Max Schmid, Medical University of Vienna, Austria
Risk factors for development of side effects and decreased quality of life after radiotherapy in cervix cancer, Sofia Spampinato, Aarhus University Hospital
Characterisation of cervix cancer radiotherapy treatment parameters and correlation to development of side effects, Monica Serban, McGill University, Montreal, Canada
Quality of life, patient reported symptoms, side effects and sexuality after cervix cancer radiotherapy, Kathrin Kirchheiner, Medical University of Vienna, Austria
Burden and severity of side effects after cervix cancer radiotherapy, Supriya Chopra, Tata Memorial Cancer Center, Mumbai, India
Treatment of oligometastatic disease and outcome of salvage treatment in cervix cancer, Lars Fokdal, Aarhus University Hospital, Supriya Chopra, Tata Memorial Cancer Center, Mumbai, India
Prognostic markers for disease outcome and survival in locally advanced cervix cancer, Jacob Lindegaard, Aarhus University Hospital, Umesh Mahantshetty, Tata Memorial Cancer Center, India, Max Schmid, Medical University of Vienna, Austria
Fatigue after cervix cancer radiotherapy, Stephanie Smet, University of Leuven, Belgium
Proton therapy in locally advanced cervix cancer, Lars Fokdal, Aarhus University Hospital, Remi Nout, Erasmus MC University Medical Center, Netherlands
Education and effects of teaching and training, Simon Duke and Li Tee Tan, Cambridge University Hospital, UK
Image guided adaptive brachytherapy in primary and recurrent vaginal cancer (EMBRACE study), Lars Fokdal, Aarhus University Hospital, Max Schmid, Medical University of Vienna, Austria, Henrike westerveld Department of Radiotherapy, AMC The Netherlands, Remi Nout, Erasmus MC University Medical Center, Netherlands