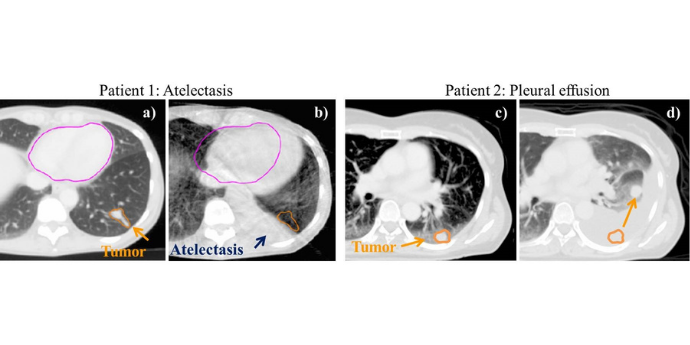 RT is planned on a CT. Each day, a cone-beam CT is acquired before treatment. For patient 1 and 2, tumors are clearly visible on the plan CTs (a) and (c), while the appearance of atelectasis in patient 1 (b), and pleural effusion in patient 2 (d) are observed on the cone-beam CTs. For both patients, the tumor is pushed away from the original position and the tumor dose is lower than planned if the treatment is not adapted to the new anatomy.
Lung and oesophageal cancers are some of the most frequent cancers worldwide. Patients are treated with chemo-radiotherapy with curative intent. However, for both cancers, a high risk of local relapses and distant metastasis are seen resulting in low rates of overall survival five years after diagnosis.

The research group at Aarhus University Hospital/The Danish Centre for Particle Therapy consists of medical physicists and oncologists. We focus on finding the optimal radiotherapy strategy for lung and oesophageal cancer patients through research projects and clinical trials. The work includes:
Adaptive radiotherapy
Anatomical changes occurring during the radiotherapy course lasting five to six weeks may result in dose deterioration for the target and over-dosage of radiosensitive normal tissue. We are world leading in adaptive radiotherapy and have implemented adaptive radiotherapy for lung cancer patients in 2013, which led to a significant increase in overall survival concurrently with a dramatic reduction in side effects.
Modelling
Based on imaging, dosimetric, clinical and follow up data for both lung and oesophageal cancer patients, we do modelling studies on TCP and NTPC in order to pave the way for patient individualised radiotherapy.
National clinical trials
In collaboration with DOLG (Danish Oncological Lung Cancer Group), we run several national clinical trials on e.g. dose escalation, hypo-fractionation, and palliation. All protocols require high clinical and technical standards.
European multi-centre clinical trial PROTECT
Randomised proton versus photon trial with very high quality assurance. The protocol emerges from Aarhus University Hospital and our group include the chair for the project quality assurance.
Robustness of proton planning
Proton therapy is highly sensitive to anatomical changes and respiratory motion. By optimising the planning and treatment delivery, the robustness of proton therapy can be increased. For oesophageal cancer, we have shown that proper selection of beam angles leads to proton plans being more robust than photon plans.